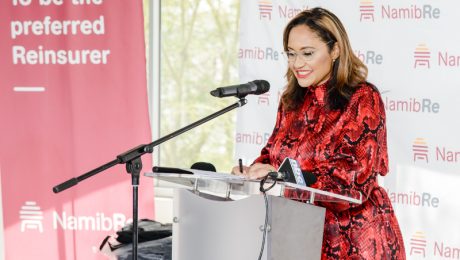 AS PART of the Namibia National Reinsurance Corporation's (NamibRe) corporate social investment initiative in response to the Covid-19 pandemic, the company donated 690 laptops to the Namibian University of Science and Technology (Nust) and the University of Namibia (Unam).
The laptops were handed over on Tuesday by the chairperson of NamibRe, Faniel Kisting, who said the laptops were valued at over N$3,3 million.
"Before the pandemic, the Namibian economy was already experiencing a recession and the pandemic expedited the existing economic challenges into a state of depression," he said.
Kisting added that the education sector experienced such a seismic shift in the execution of its mandate, and needed to adapt to new ways of learning and communicating with students across the country.
"Students and lecturers had to operate from home and embrace remote learning. This shift came with difficulties and new challenges for students as they had to adapt to the 'new normal' way of e-learning," Kisting added.
He said due to a lack of resources, such as computers and internet connectivity, many students felt left behind in terms of their education.
He further said information obtained from the local media in 2020 revealed that only 2% (mainly in private schools) of school-going children (from grades 1-12) had access to facilities required to have e-learning.
"NamibRe, as a public enterprise which takes its responsibilities as a good corporate citizen seriously, has identified the need to bridge the gap and provide aid and assistance to students to be able to continue with their studies," he said.
According to Kisting, after consulting the education ministry and both Nust and Unam, they decided to donate laptops to students who need these devices to enable them to continue with their tertiary education programmes.
"Nust and Unam play a vital role in providing human capital with the right skills and knowledge to various industries in the Namibian economy," he said.
Present at the event was Unam vice chancellor Kenneth Matengu and Nust vice chancellor Erold Naomab, who expressed their gratitude towards the company.
"What NamibRe has done to compensate and increase access, what they are doing is availability, to allow education to be conducted wherever people may be," said Matengu.
Also present at the event was Namib­Re managing director Patty Karuaihe-Martin who said the organisation has embraced technology.
"NamibRe makes it easy for us to have been able to adapt to remote working in a relatively short time after the government implemented lockdown measures as a way of containing the spread of the pandemic," she said.
Source: https://www.namibian.com.na/111686/read/NambRe-donates-690-laptops-to-students